Each Ace certified technician understands proper installation methods, and takes responsibility for each windshield installed.
How You Benefit From Our Experience & Certification
---
Each technician is trained to evaluate each windshield nick, crack or chip and may recommend the best and safest solution in the customer's interest.
Your Ace technician understands each step of the replacement process and how every step is an important step for the vehicle owner's safety and driving comfort, with an emphasis on safety.
Ace Auto Glass Technicians have all or a combination of these Certifications: Ace Auto Glass, Dinol sealant manufacturer, the National Glass Association, and Auto Glass Safety Council.

Ace Auto Glass Certified Technicians are trained in the proper replacement of windshields that have Advanced Driver Assist Systems (ADAS) glass.
Ace Technicians are the most experienced technicians in the Islands and Guam.
Your Ace technician has received extensive training on installation methods and product usage that meet and exceed compliance requirements for Federal Safety Standards for accident rollover and retention.
Trained on preventative protection systems that were specially created for  tropical and ocean environments, and were designed to help reduce the occurrence of rust.
Ace Premium Installation
---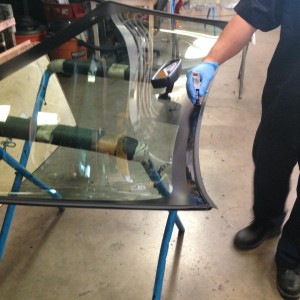 Top Grade, Federal Safety Standard Approved Sealants
Highest Optical Quality Glass For Better Driving Experience
UV Protective Primer On Every Installation
Convenient Neighborhood Locations
Mobile Service to Your Home or Office
Fast Same Day Service Goal
100% Customer Satisfaction G

oal
Important Tip: Auto glass requires a clean bond of glass to the vehicle.  Ace technicians follow a strict step by step process to replace auto glass.
Ace New Windshield Installation Warranty*
---
Ace Certified Technician Backed
Nationwide Lifetime Water Leakage Coverage On Ace Installed Windshield **
90 Day No Stress Crack Warranty*
Free Chip Repair on Any Ace Purchased and Installed Windshield 
Products***
Guaranteed to Fit
*All warranties are not transferable.
**Water leak coverage offer is not valid on vehicles with existing rust at time of service.
***Nick and chip repair offer only good for the State of Hawaii and Guam.k
Ace Auto Glass technicians are Auto Glass Safety Council Certified and committed to the highest safety standards for windshield installation.